06
Jun
2019
The new Tuscan tale: a wine voyage with Allegra Antinori and Renzo Cotarella
It is a very wet and cool Wednesday morning in London, traffic is heavy and public transport is slow, as you would expect during classic British weather. However, the conditions didn't stop a select group of wine professionals, from across the UK, gathering at Hide Restaurant in Mayfair, for what promised to be a memorable tasting: Allegra Antinori and Renzo Cotarella co-hosting a masterclass on their wines from Southern Maremma, Tuscany.
Allegra is one of Piero Antinori's three daughters running the family business today. Antinori is synonymous with prestige and history. Florentine winemakers since 1385, currently on their 26th generation, they are the 10th oldest company in the world. The business is still completely in the family's hands and, without doubt, one of the best wine producers in Italy.
Renzo is what many would define as a 'living wine legend', hired by Marchese Piero as agronomist in the 1970s to direct the Castello della Sala estate, he then created Cervaro della Sala in the 1980s (now one of the most acclaimed Italian whites worldwide) and currently oversees the production of icons such as Tignanello and Solaia. Today he is the company's CEO and enjoys a strong reputation in the world of wine for his knowledge, passion and obsession for quality. We couldn't have asked for a better duo to distract us from the unreliable transport and miserable weather.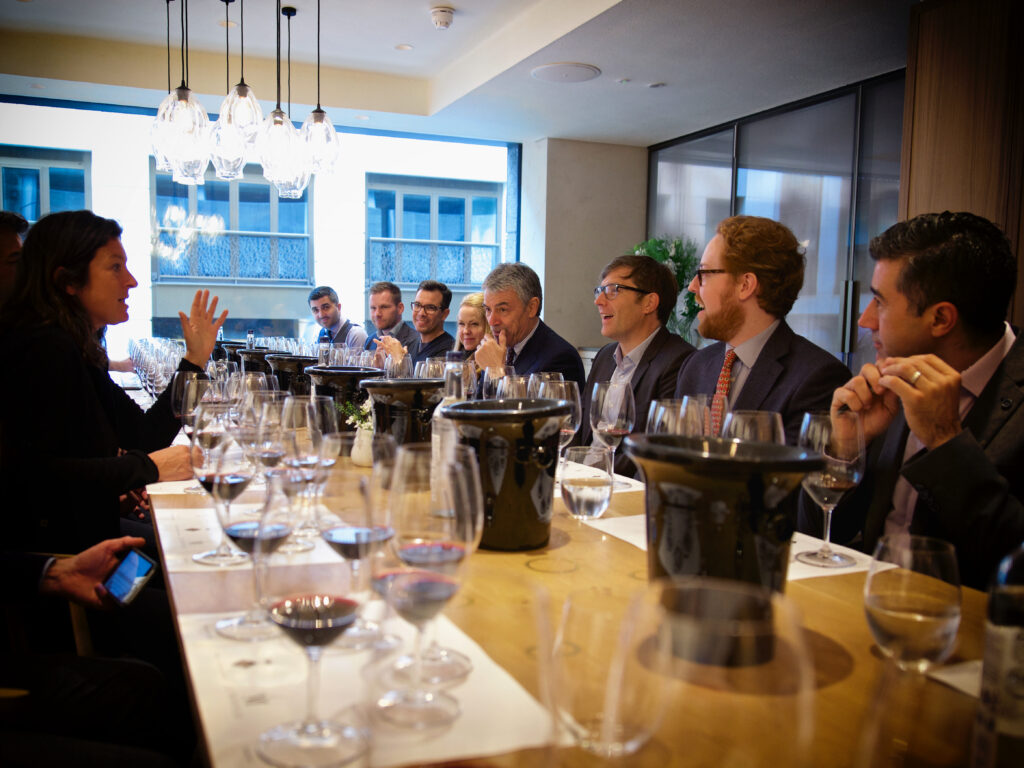 The present: from traders to producers
Before turning our attention to what is in the glass, there is the necessary introduction to what Antinori is today. Allegra clearly sees a turning point, when her father was appointed as the head of the company in 1966 at only 27 years old: "He really had a strong vision and wanted to change the way we were thinking about wine: Italy at that time was too traditional, too rooted in the past. He was convinced that he could make wines of exceptional quality, able to enjoy a strong reputation internationally, and therefore Tignanello, Solaia and Cervaro della Sala were born. This has always been a constant in our family: the tireless quest for innovation, even in very traditional areas."
Renzo Cotarella explained how the business developed during that time: "Originally we were operating as a négociant, but in the 1990s we realised that to make wines with a strong identity and authenticity, we needed to own the vineyards and manage the whole production process from start to finish. Therefore, we made a big investment in land. It took us 25 years to get to the stage where we are today for many different reasons, financial reasons, law limitations, the change of approach, to mention a few. But today, Antinori is a very different company; now all the wines under the Antinori name are made with grapes which come only from our vineyards."
The future: 'We are always at the beginning'
The theme of the day's masterclass is still considered a 'new' wine area for Tuscany – Maremma, the southern part of the region close to the coast. The focus is on Le Mortelle, the estate near Castiglione della Pescaia where Antinori decided to invest at the end of the 1990s and plant international varieties instead of Sangiovese, due to the warm climate.
"It's been a great challenge and we are just at the beginning of this experience", says Renzo talking about Le Mortelle, "but after almost 20 years of experimentation and research on site, we are finally in the position to talk about the first results and the ideas for the future."
The obvious comparison is with Guado al Tasso, 70 km north, in what is known as Upper Maremma and where Antinori started to make its flagship wine in 1990, when the collaboration with Tenuta San Guido – Sassicaia ended.
Playing an important role in both areas, are the cooling influence of the Mediterranean Sea and the wind from the coast. Due to their location in the 'Bolgherese amphitheatre' the Guado al Tasso vineyards, also enjoy the additional cooling effect of the winds, coming from inland during the night. Soils are slightly different though, at Le Mortelle they are sandier (there is a yellow sand component which comes from the Galestro rock), whilst in Bolgheri there is more clay and loam in the soil composition.
Renzo admits that it has been difficult at times: "It took us years to understand the area, to find the most suitable rootstocks and clones, the ideal spot and training system for each variety. It is not easy to make a great wine", he adds "We always try to do our best: sometimes we succeed and sometimes we don't, but this is part of our job."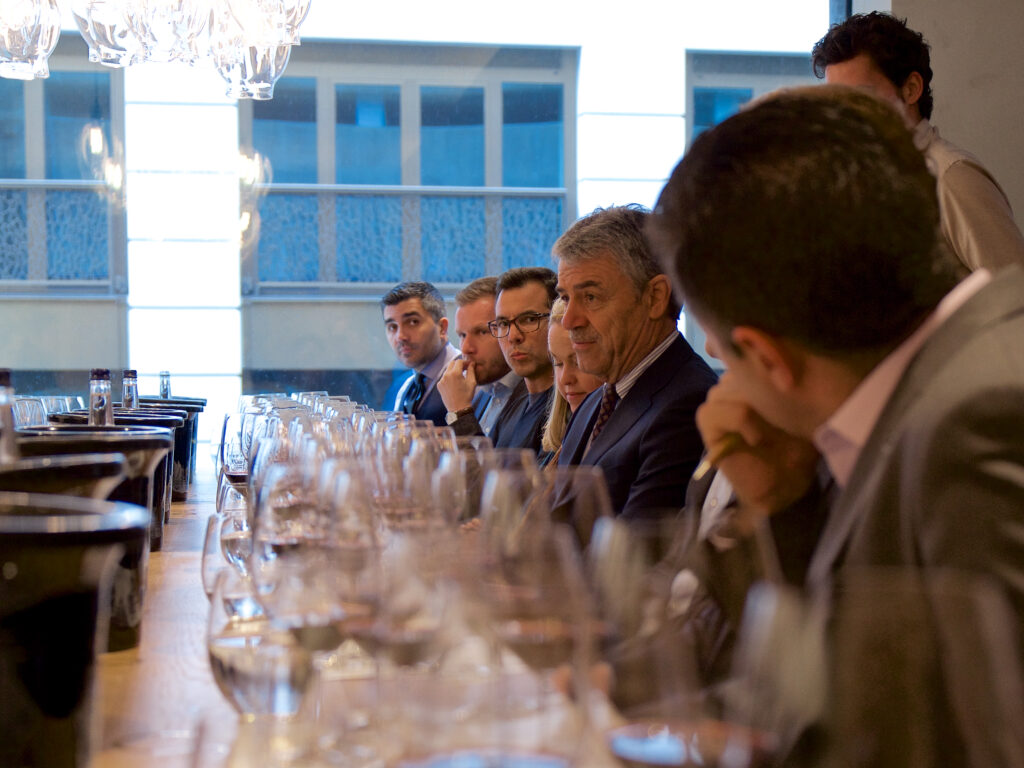 Two wines, two vintages and one dilemma
Now to the wines: on one side we have the flagship wine from Le Mortelle estate, Poggio alle Nane (which in Tuscan dialect means 'the ducks hill'). This is a blend of 80% Cabernet Franc with a small percentage of Cabernet Sauvignon and Carménère. Next, we have the better known Guado al Tasso Bolgheri Superiore, a blend of Cabernet Sauvignon, Merlot and Cabernet Franc (until the 2015 vintage a small amount of Petit Verdot was also added to the blend).
Guado al Tasso shows elegance, a more restrained style and a slightly savoury character, whilst Poggio alle Nane shows riper, sweeter dark fruit with notes of chocolate and coffee. The level of elegance which a wine can achieve is also linked to the age of the vines where the grapes are from. Vines at the Guado al Tasso estate were planted in the 1980s, whilst at Le Mortelle they started in the late 1990s and many vines were pulled up and replanted during years of experimentation. Renzo gives us an idea of what this means by comparing the vines to people: "When young they are reactive, they respond to external situations (such as weather in this case) without thinking enough sometimes. They need experience to express their selves at their best."
We tasted both the 2015 and 2016 vintage of each of the wines. 2015 is unanimously considered a great vintage for Tuscany and across Italy, offering wines of great balance and generous fruit. According to the Antinori chief winemaker it is the perfect example of an easy vintage: "we picked perfectly ripe grapes with no need to select them." The cooler 2016 vintage, however, is Renzo's favourite so far. "It was a long growing season and I think it's a really good vintage. It was cooler and more challenging than 2015 but it is very expressive of its terroir, very precise and fresher on the palate." The room seems to be split between the two vintages and Renzo stressed that, in the end, it is a matter of personal taste and that he is, of course, very happy with both vintages.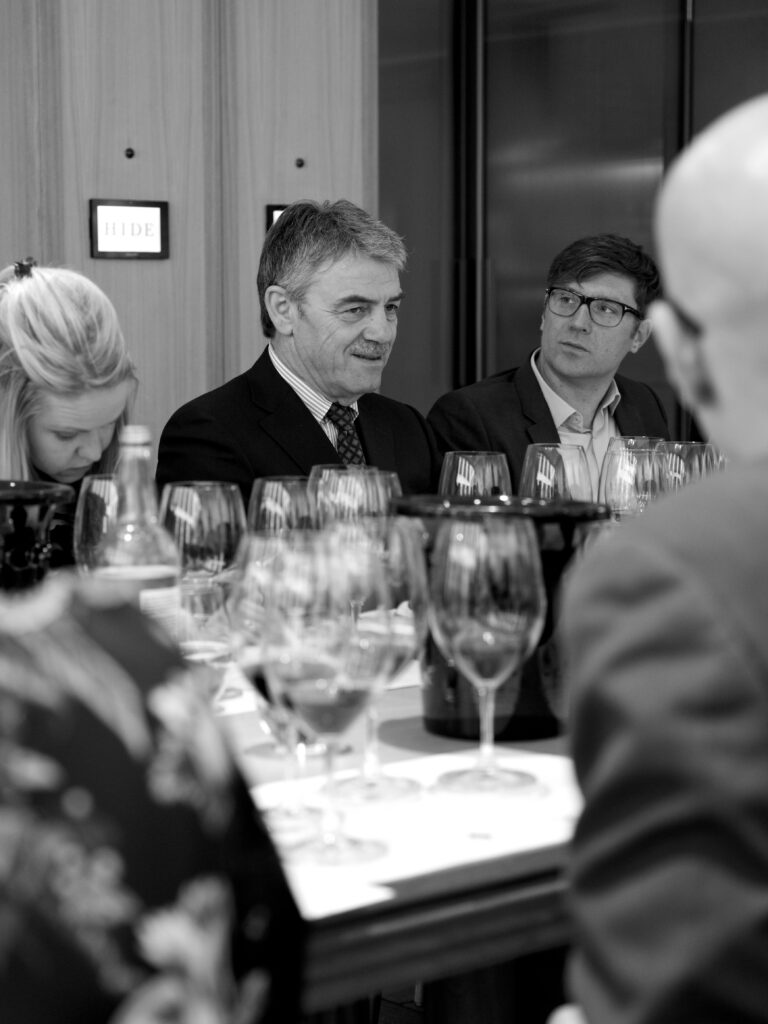 A new idea, a new project: Ampio
The last wine to taste is the new release from Le Mortelle Estate, Ampio, which in Italian means wide, but this name comes from the hamlet near Castiglione della Pescaia where the grapes are grown.
Ampio is made in very small quantities (there are only 60 bottles available in the UK) and it is a blend of 50% Carménère, 25% Cabernet Sauvignon and 25% Cabernet Franc. Ampio is a project based on the Carménère grape. "I love Carménère" says Renzo, "I started to work with this grape in Chile, where we established a presence in 2002 with Haras de Pirque. Carménère requires a long and warm growing season to reach full ripeness, therefore Maremma seemed to be a natural choice. We decided to make a Carménère based wine, not 100% Carménère but I would love to get there one day."
The wine shows great intensity and exceptional concentration, combining dark berry fruits with spices and a lovely, minerally finish. It is a very rich and complex wine, but still retains a level of freshness which makes it an elegant wine overall.
Renzo adds "This is the style of wine we like: it seems simple to make but it's not, it is actually very difficult to achieve. I think a great wine is a song of nuances. To have a truly great wine you must have a wine that drop after drop gives you more and better. Great wines need to be harmonious and this is the challenge which the vineyard manager and the winemaker must undertake. There is no recipe. There is the idea and the execution of that idea."
Ampio was recently awarded 96 points by Wine Spectator and this is a clear indication of what this wine can become in the future. "Although points are part of the wine world today, I never rate my wines 100 points. We can always do better" says Renzo.
On that note, we all look forward to the future, whilst enjoying the delicious present.